All your Business Process Management in one elegant solution
Our BPM solutions are ready to to help the whole company succeed and stay compliant, through a software that can be reached through the browser.
Why use a Visual system for business process management and improvement?
Cooperate to map and improve business processes with an easy drawing tool.
Reach the End Users with approved processes and guiding documents, which are relevant for their specific roles in the company.
Manage compliance and audits through built-in functions – even in highly regulated businesses.
Keep Management updated and engaged with an overview, scheduled reports and actions – and by showing the value of the processes in real time.
The company employees can always find their processes online – with relevant attachments and supporting data. Using UPN (Universal Process Notation), a modern approach which makes it easier for the process group to draw processes, it becomes easier for the company to understand and act on them.
Our solutions focus on the company, intuitive ease-of-use and helping each user understand their role in the company process; so that they can be successful for themselves and their team.
Download Whitepaper | Get a Personal Demo | Contact us
Advantages include:
Draw elegant processes, easily
+ Simple but effective notation language
+ Work online, through the browser
+ Perfect tool for workshops
Easily access relevant information:
+ Easy-to-understand diagrams
+ Support for both Functional and End-to-End processes
+ Role-based to ensure relevant data and tasks
+ Easily find your documents
+ Individualized presentation

Process Excellence through collaboration
+ Notifications, Feedback and other engagement features
+ Ensure the right people get the right info (and read it!)
+ Work collaboratively on Processes and Documents
Other features:
+ Version management
+ Integrate with other systems
+ Link processes to documents, transaction systems or simple web links
+ Compliance support (GRC, ISO, audits, CAPA etc.)

Driving a Business Process Management project
We have over 10 years of experience of implementing advanced Business Process Management solutions, assisting companies in leading their projects to success.
We use standard solutions which can be set up in the Cloud or installed and configured on a local server. The End Users and Process Authors can reach the software through a smart web portal. When the implementation of the software is complete, the Authors can immediately get started with mapping their processes through the web portal drawing tools. How the projects are run may vary, but usually they go through a couple of phases. Below are a few examples of phases and activities which may be involved:
1. Draw the Top Level of the company process
UPN Process maps are layer-based; you usually go from an overview level and drill down to more and more detailed diagrams. Typically, the process work starts in a series of workshops where the process owners collaborate in drawing the Top Level. On this first level, the operational processes (such as Management, Development, Sales, and Delivery) and the support processes (such as Finance, HR, IT and Quality Assurance) are mapped out in an overview diagrams of the very broad workings of the company. Regardless of process background, the workshop group usually feel comfortable with the easy, minimalist notation style (read more about UPN in this PDF eBook) and mapping directly in the smart web portal – where the processes will later be published for the End Users.
2. Drill down into processes below the Top Level
When the Top Level is mapped out, the process owners can use the web portal to manage the detailed mapping of their specific processes at their own discretion. This usually means delegating the notation work and overseeing their process authors' progress. Except for mapping processes, this phase usually includes the management of relevant guiding documents and other support data.
3. Ensure relevant attachments are shown with the processes
Documents can either be stored in the system (complete with a Draft-to-Master workflow, version management and a search engine) or be linked to from external document management systems (read about our recommended document management system). Support data can be Metrics or similar data, which can be imported from business systems. The documents and support data can, except for being fully searchable and available for reporting, be attached to the process diagrams and on their relevant activities.
4. Ensure compliance with ISO-standards and other regulations
In addition to documents and business data it is also possible to set up and manage regulatory statements, such as those from ISO standards or paragraphs from other regulations for the business (such as laws, best practices, the company philosophy, etc.) which the employees are expected to follow. When a set of regulations (or Statement Sets) has been established, its statements can be read in their entirety within the Web Portal and be linked to their relevant activities, documents and other elements within the system – so that the statements are promoted and accessible in-context to the employees. An index of where the rules are attached is also created in the Web Portal, and it is possible to generate reports on the rules so that it can easily be seen where different statements are being used. Read more in our Blog post about compliance management.
5. Cooperate using efficient communication and workflows
Leadership and cooperation is important to reach success in any process project. For this reason, it is possible to use social features in the web portal, for feedback and delegating assignments during the course of the process work. Quality is assured by workflows for approving drafts, both for process diagrams and documents within the document registry. When all levels are approved, the process diagrams can be published as one coherent map.
6. Manage and inspire continuous improvements
After publishing the process map, the process organization can easily continue their collaboration to keep improving the processes and make sure they remain relevant. They can work on updates to process diagrams and documents in draft versions behind-the-scenes and publish the ones that are ready, without disturbing the rest of the map that is in use. They can also manage and delegate process assignments. Not least, the process owners can govern the usage of the processes and work to increase it – so that as many as possible can benefit from the processes and the attached data.
7. Manage adoption and increase the use of the system
To ensure that the employees adopt the quality system and benefit from the processes, it is possible to manage the adoption and usage in several ways. This allows the process organization to own the adoption within the company.
It is possible to schedule reminder notifications for specified users and/or user groups to read certain process diagrams or documents, so that they are reminded of process data that is relevant to their roles.
All Users have individual Home pages in the web portal, where they can save Favorite process diagrams and documents for quick access. If there are process diagrams or documents that are identified as especially useful to certain roles within the company, the Admins can add Favorites to their Home pages based on their User Groups.
Another way of ensuring the right people get the right process data is using Landing pages for specific roles or departments within the company. Landing pages can be graphical express portals to their workdays (for example Landing page: HR partner, Landing page: Sales manager) or for executing processes (Landing page: Ordering IT equipment). The buttons on these pages can contain links to certain diagrams, documents, systems or to executing functions in business systems.
Usage data can also be extracted and imported into other software or services for analysis (using MS PowerBI, TIBCO Sportfire, QlikView or similar).
8. Perform and log internal/external audits
It is also possible to manage internal and external audits directly in the web portal. Audits can be performed on the compliance of processes, ISO standards and other standards or regulations for the company. Read more about this feature in our blog post about compliance.
Book a demonstration | Whitepaper: UPN
3 key benefits of a visual BPM System
To us, Business Process Management (BPM) is all about:
Understanding and documenting the company' processes in a structured way, with an easy language. One of the main purposes of Processes is to make it easy for all employees to understand their role, in all relevant contexts: their assignments and responsibilities.
Distributing processes so that they are useful and easy to rely on in the daily work. The processes should be looked over often and integrated fully into the work day; so that it helps employees act correctly based on the goal of their work, and improve collaboration between processes.
Engaging and inspiring the company to continually improve the processes, so that they can be performed better and so that the documented processes correspond to reality as much as possible.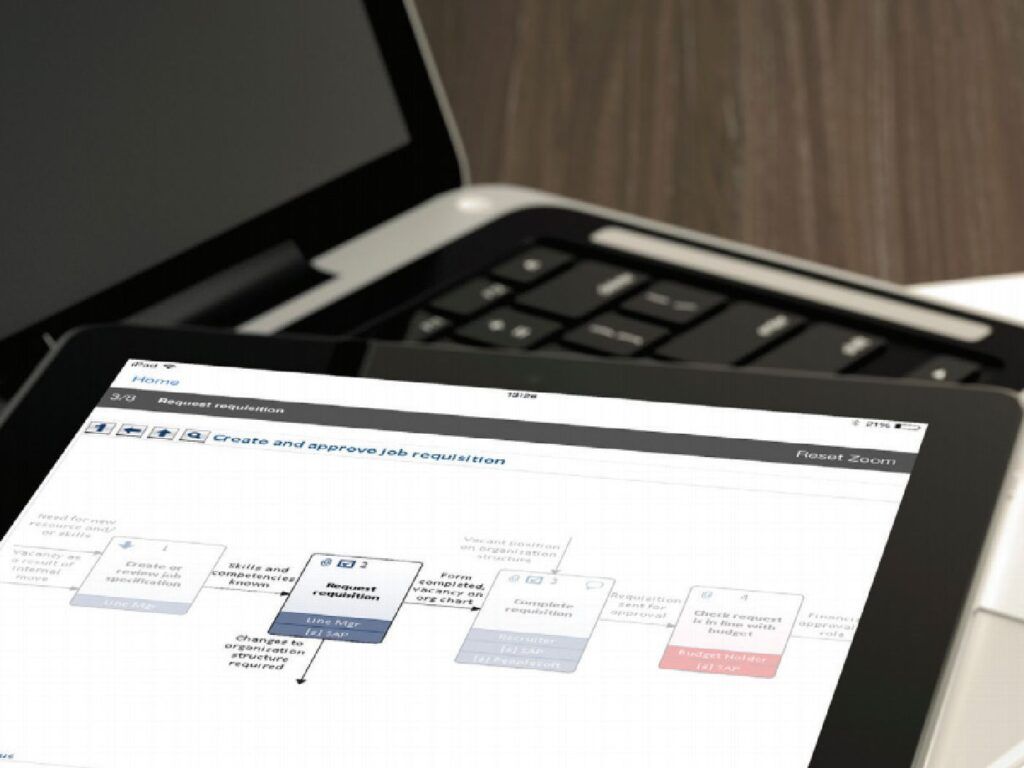 Easy notation method: We prefer to use a minimalistic and intuitive process language called UPN (Universal Process Notation), to make the processes as clear and easy to understand as possible. There is only one type of boxes, with universally recurring symbols for document attachment, web links and other supporting data.
User-friendly Web Portal: We use a modern, intuitive Web Portal to distribute the processes, so that they and all their relevant attachments (documents, links and other information) is always available online, to those with access. In the Web Portal, there are several ways to collaborate around the processes. Users can also give Feedback to processes and suggest improvements.
Ensure adoption: To make sure the users adopt the system, there are functions that are meant to increase the usefulness of the system for their everyday work, such as: smart landing pages for different roles or business areas; notifications about important events and times, within their relevant processes; scheduled internal audits and integration of governance standards (ISO, etc.) and more. Storyboards are simplified presentations of the processes, giving users a briefing of select, relevant steps.
Online Process drawing: Process authors can create and edit process maps online through their browser, without having the improvement work affect the already published processes. When the changes are approved through the promotion workflow, they are published as a new Master version. With the help of an advanced, but easy-to-use reporting system, it is easy to map the usage and see where to focus on improvements.
Online Audit and Compliance management: We have a pre-configured system which allows Audits of your company compliance to take place in the browser-based web portal. Import your statement sets (such as ISO 9000-series or any other standard or regulation), make them available to the company in the right context as attachments in your process steps, and then record Audits; on the general statements and how they relate to your work.
Please contact us or visit Visual QMS for more information.